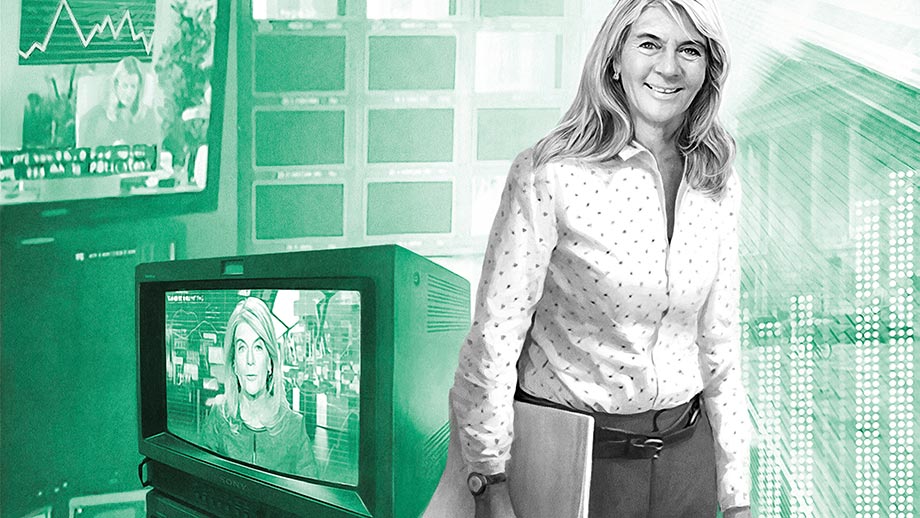 Her Own Boss
Celebrated alumni look back at their time at UZH. This time, we meet Marianne Fassbind, who following a long career in TV now works as a freelance consultant.
It was not the finest moment for UBS Chairman Marcel Ospel when on 1 April 2008, Switzerland's largest bank announced a net loss of some 12 billion francs. That evening, Ospel was interviewed on the news by business editor Marianne Fassbind. "He apologized for yet another massive writedown," recalls Fassbind, "and assured me that it would be the last." Fassbind pointed out that he had made the same promise before. The financial crisis sent the bank into a major tailspin, such that it eventually had to be rescued by the government and the Swiss National Bank. Once dubbed by business magazine Bilanz the "most powerful banker in the world", Ospel was forced to stand down.
Hectic but exciting
For Marianne Fassbind, the Ospel interview ranks as one of the key moments in her career as a business journalist. "It was hectic, but exciting," she recalls. Her expertise as an economics specialist was in demand, and as a journalist on the Tagesschau news program, all doors were open to her: "If you wanted an interview, you would get it."
Nowadays, the tables have turned somewhat: Instead of putting business leaders through their paces, she now works as a partner for communications consulting company Dynamics Group, a position she has held since 2016. The knowledge she acquired in her role as journalist has proved particularly useful in her new position: "I know what stories interest journalists." This helps, for instance, with the positioning of a company wishing to attract the attention of the media and potential investors. In her role as partner, she is able to participate in decision-making within the company – new projects must be approved by all partners, for instance – but she also has to acquire her customers independently. "I am my own boss, and I like that," says Fassbind.
Marianne Fassbind grew up in Hergiswil in the Canton of Nidwalden. Her roots are important to her. One of the first things she relates is how her family tree can be traced back to 1321 – to Arth in the Canton of Schwyz. And how one branch of the family runs the Fassbind kirsch distillery and the Fassbind hotel group.
Marianne Fassbind herself hails from a hotelier family in Engelberg. In 1903, her grandfather built the Hotel Terrace, an imposing art nouveau building that still sits majestically on the Engelberg mountainside. Her father married a French woman and moved to Paris, but returned to Nidwalden because her older brother suffered from asthma and could not tolerate the air in the capital city. Consequently, Marianne Fassbind, the youngest of three, grew up on Lake Lucerne. She retains her close links with Engelberg to this day: Until recently, she represented her family on the Advisory Board for the Engelberg and Titlis cableway company, and she returns there to ski whenever she can.
One of the things Marianne Fassbind could never stand was hierarchies. It was the rigid hierarchies that drove her away from Vontobel bank, where she worked first as an analyst and then as customer adviser after completing her economics degree at UZH. She moved to business magazine Cash, where she was hired in 1994 with no journalistic experience: "I had very little idea of how to write." However, she understood the stock exchange – as an analyst at Vontobel she wrote the market reports for the Zurich newspaper NZZ. And she had insider knowledge of the banking scene.
This is it!
"'This is it!' I thought, when I attended my first editorial meeting," says Fassbind. "Everyone had an equal say when discussing plans for the next issue." It was also at Cash that she met her husband Markus Gisler, who was editor-in-chief at the time. One of her tasks was to comment on economic events for Cash TV. After coming to the attention of Swiss television, she moved to the news program Tagesschau in 2004, but not before completing a four-year stint as councilor and head of finance for Rapperswil town council (for the FDP) – while also also holding down a part-time position at Cash and raising two young children. "We had to juggle things," she says, looking back, "but we managed somehow."
Now the children have grown up and Marianne Fassbind is enjoying her independence: "I'm free to use my time as I wish, and I can work strategically." Both suit her. She is currently working on injecting new life into a pension fund and advising other pension funds on communications. "It is important for me to believe in what I am doing," she adds. She would never do PR for e-cigarettes, for example. "I feel very privileged," concludes Fassbind, "and tomorrow I'm going skiing."